This maple tahini dressing is an easy homemade salad dressing that is truly AMAZING. It's creamy, a little sweet, and a little tangy. An excellent dressing for a variety of salads!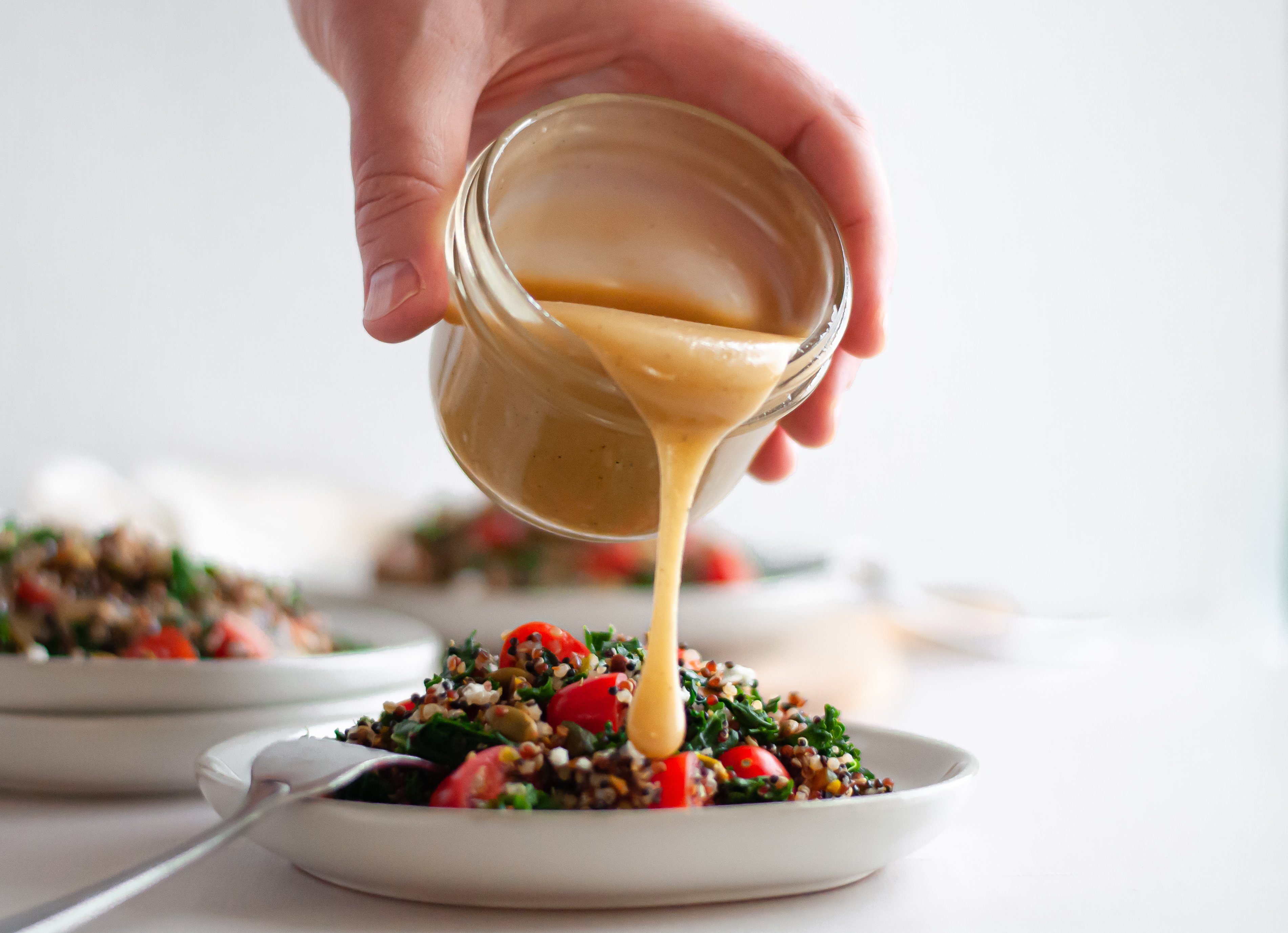 Have you been trying to be healthier and eat more salads lately? Are you getting bored with the salads that you've been making over and over and need some new homemade salad ideas? This maple tahini salad dressing recipe is just what you need to get you excited about eating salads again!
This easy salad dressing recipe is made with healthy and clean ingredients. Tahini, which is full of healthy fats, vitamins, minerals, and antioxidants, is the base for this dressing recipe. Paired with apple cider vinegar (also touted as having a variety of health benefits), olive oil, lemon juice, salt, pepper, and a touch of maple syrup create a creamy, tangy, and mildly sweet dressing that is just a delight. Not only is this homemade maple tahini salad dressing delicious, it is easy and quick to make too.
This is one of my favorite salad dressing recipes. I originally made this maple tahini dressing to put on my Kale and Quinoa Power Salad, but now I use it on a variety of green salads as well.
TELL ME ABOUT: MAPLE TAHINI DRESSING
Level of difficulty: Easy. Like, so easy you'll wonder why you haven't been making your own homemade salad dressing all of this time…
Flavor profile and texture: The tahini helps to create a thick and creamy dressing, which is also a little tangy (from the lemon juice and apple cider vinegar) and a little sweet (from the maple syrup).
Time: From start-to-finish, it will take you less than 5 minutes to make your homemade salad dressing.
KEY INGREDIENTS TO MAKE MAPLE TAHINI SALAD DRESSING
Tahini: if you're new to tahini, you'll find this sesame seed paste in a jar, can, or sealed plastic container wherever your grocery store stocks Middle-Eastern food; it may also be near the condiments or sauces.
Olive Oil: since this recipe has a small number of ingredients, you'll want to be sure to use a quality olive oil since you will taste each ingredient. Extra virgin olive is the way to go!
Lemon Juice: fresh or bottled lemon juice will both work in this recipe. However, fresh lemon juice will be a little brighter as you're getting it straight from the source.
Apple Cider Vinegar: apple cider vinegar is a lovely style of vinegars for dressings (and so much more!), and you can find it in your local store's vinegar aisle near to other standard types of vinegars like white, balsamic, and red wine vinegar.
Maple Syrup: always use REAL maple syrup (NOT pancake syrup) for this dressing. Real maple syrup is simply maple tree sap that has been boiled down to create a syrup. It's a natural sweetener. Pancake syrup on the other hand is full of all kinds of not-so-great-for-you ingredients that you just don't need in your diet. It also doesn't taste as good (in my opinion). In our area, it is easy to get local maple syrup at both the grocery store and at our farmers markets. Costco's Kirkland brand also has a nice organic maple syrup (in a large quantity for a low cost per ounce), or if you're just not finding it, you can always order real maple syrup online.
Salt and Pepper: always salt and pepper to taste…I've given you a good ratio to start with for this recipe.
OVERVIEW: HOW TO MAKE MAPLE TAHINI DRESSING
Place all ingredients in a jar: measure out and place all ingredients in a small to medium sized jar and screw on the lid tightly.
Shake: shake vigorously to combine. Dressing complete!
Refrigerate: place your dressing in the fridge until ready to serve. Note: dressing may begin to separate as it sits, just give it a little shake prior to serving.
Store leftovers in the fridge: if you're not using all of your dressing right away, store remaining dressing in the fridge in an air-tight container for up to 3-4 days. Note: I find this dressing tastes best used within 24 hours.
NOTES ON THIS EASY SALAD DRESSING RECIPE
Should I use fresh lemon juice in this recipe, or is the bottled type ok to use? Either is just fine to use in this recipe! If you have a lemon on hand, fresh is always my preference, but don't sweat it if you use the pre-squeezed bottle of lemon juice you have in your fridge.
What kind of salad should I use this dressing on?
Try on your favorite green salad in place of whatever dressing you have been using!
This dressing was made for, and is great on, this Kale and Quinoa Power Salad
You could also put it on this easy Curry Roasted Chickpea Salad
This would be good dressing option on a Mediterranean style salad with falafel
Maple Tahini Dressing
This easy homemade salad dressing recipe is a great dressing to add into your rotation. This dressing is made with healthy and clean ingredients, and is a cost effective (and delicious) way to dress many kinds of salads!
Ingredients
1/4

C

tahini

2

Tbsp

olive oil

1

Tbsp

apple cider vinegar

3

Tbsp

maple syrup

1

Tbsp

lemon juice

1/4

tsp

salt

1/8

tsp

pepper
Instructions
Place all ingredients in a jar and shake to combine

Refrigerate until ready to use

If not using right away, store in the fridge for up to 3-4 days, shake prior to using. I find this best used within 24 hours of making
Notes
*Note: You can use fresh lemon juice or pre-bottled. Either is just fine to use in this recipe! If you have a lemon on hand, fresh is always my preference, but don't sweat it if you use the pre-squeezed bottle of lemon juice you have in your fridge.
Nutrition
Calories:
193
kcal
Carbohydrates:
14
g
Protein:
3
g
Fat:
15
g
Saturated Fat:
2
g
Polyunsaturated Fat:
4
g
Monounsaturated Fat:
8
g
Sodium:
152
mg
Potassium:
110
mg
Fiber:
1
g
Sugar:
9
g
Vitamin A:
11
IU
Vitamin C:
2
mg
Calcium:
38
mg
Iron:
1
mg