This quick and easy chicken vegetable curry with chickpeas is great for busy weeknights. We love this recipe because it is a great way to use up leftover chicken and vegetables you may have in your fridge!
If you're like me, weekends are when you get the chance to really do your best work in the kitchen. You have time to prepare more intricate recipes, meal prep and bulk cook to prepare for the week ahead, and really just play around a bit more. Fast forward to the middle of the week…we are usually running on whatever leftovers we have from the weekend prior and our main priorities are speed and finding something relatively healthy.
But what if I told you you could have a chicken vegetable curry ready in approximately 30 minutes that tastes like you spent hours making it? Well, you're in luck. Allow me to introduce you to what we fondly call 'Leftover Chicken Curry'.
This chicken and vegetable curry with chickpeas was born out of busy weeknight creativity. We grabbed chicken we'd grilled a few days prior, leftover peas that our daughter didn't want to eat, some cooked broccoli left over from breakfast, and threw them all in a pan with coconut cream and a few other odds and ends and it was fantastic.
Like, so good that we now purposely go out of our way to have the ingredients for this chicken and mixed vegetable curry on hand so we can make a delicious dinner after work! I'll be the first to admit this is not an authentic curry recipe that you'd find from an Indian food blogger or at your favorite Indian restaurant. But we very much enjoy this as a meal, and I hope you do too.
If you've been wondering what to do with leftover chicken, or have been looking for healthy chicken dinner ideas, this chicken and vegetable curry with chickpeas is the recipe you've been needing. This recipe is easily adapted to be a vegetarian or vegan curry recipe too!
Jump to:
Why You'll Love This Recipe
Level of difficulty: Easy! This chicken curry recipe is made using leftover chicken and a variety of vegetables that are either already prepared or take minimal time to prepare.
Flavor: Savory grilled chicken and veggies mingles with spicy red curry paste, all swimming together in coconut cream.
Texture: Hearty. Big chunks of vegetables and chicken. What could be better?
Time: It will take you approximately 30 minutes to prepare your chicken and mixed vegetable curry with chickpeas. This assumes you are using pre-cooked chicken (does not include time to cook chicken).
Ingredients Needed
Leftover grilled or baked chicken, seasoned: This is the perfect recipe for using up extra cooked chicken that you've previously prepared. We like to purposely batch cook chicken on the weekend to eat throughout the week. Our favorite chicken to use in this easy curry recipe is grilled chicken seasoned with one of our go-to spice blends (McCormick 'Montreal Chicken Seasoning'). You could also use rotisserie chicken that you pick up from your grocery store!
Vegetables: While the list of veggies in the ingredients is what we like to use, you can get creative here. Got leftover cooked carrots or roasted sweet potatoes? Toss 'em in! Some green beans that need to be used? In they go! We like to include green peas in our curry to get some easy vegetable protein, but the sky's the limit!
Canned Chickpeas: Another budget friendly ingredient that adds protein and fiber, canned chickpeas are fantastic in curries. All you need to do is drain, rinse, and add to your pan.
Coconut cream: If the ingredients are the orchestra, the coconut cream is the conductor that brings them all together. Coconut milk can be easily substituted if that is what you have.
Red curry paste: This is what makes it a curry! Red curry paste can be spicy, so don't be afraid to start with a smaller amount and build up to your desired level of heat. We've found 2-3 Tbsps give a bit of heat and curry flavor but isn't overwhelming.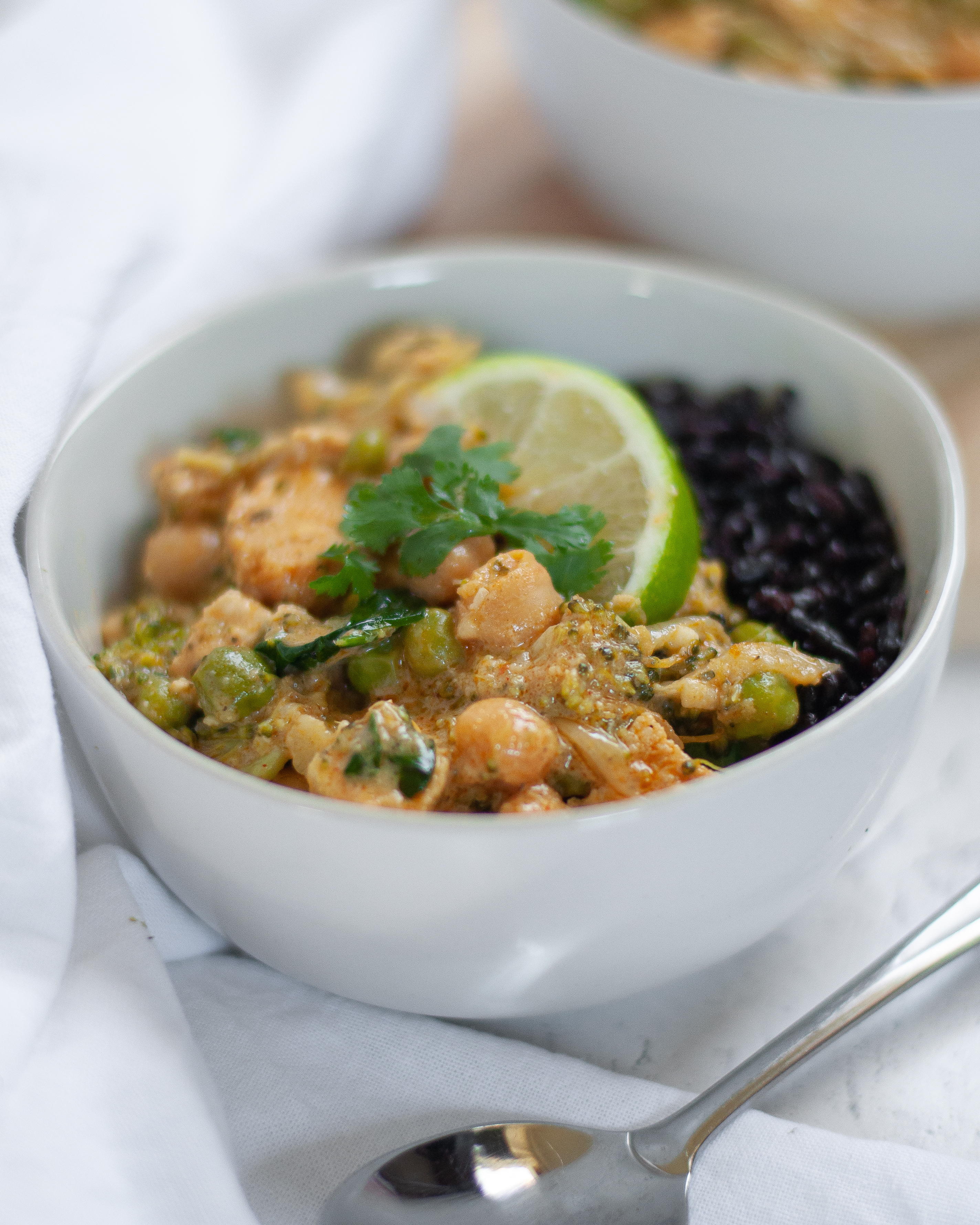 Step-By-Step Instructions
Cook your rice of choice: Set your rice up to cook, and then move on to putting together your curry.
Chop and sauté the onion: Chop and then sauté the onion with olive oil and salt in a large skillet until translucent (approximately 5 minutes).
Add garlic: Cook until just aromatic (30-60 seconds).
Mix in the bulk of the ingredients: Add the chopped chicken, broccoli, peas, chickpeas, coconut cream, and curry paste. Stir until combined and simmer for 10-15min. Taste curry for desired level of heat and add as necessary.
Wilt spinach and serve: Mix in a couple of large handfuls of stemmed spinach until wilted. Add the juice of one lime and serve in bowls topped with cilantro.
Recipe FAQs
Can this chicken curry with chickpeas be made vegetarian or vegan? Yes! Drop the chicken and this is now both a vegetarian curry and vegan curry recipe! If you decide to remove the chicken from this recipe, I would recommend that you add another plant based protein, such as crispy tofu or additional chickpeas, to bump up the protein.
What type of rice or grain should I serve with this chicken, vegetable and chickpea coconut curry? This curry can be served over most grains. We prefer serving this curry recipe over either Forbidden rice or Jasmine rice.
What should I do if I cannot find a 19oz can of coconut cream? Our store is a little hit or miss on having this sized can of coconut cream. If they do not have it, we get 2, 14oz cans and use about 1 and half of them.
Love This Recipe? You May Also Enjoy
Did you make this recipe? Tag @ourlovelanguageisfood on Instagram & Facebook. Leave a ⭐⭐⭐⭐⭐ rating & comment below too! Be sure to subscribe to our weekly newsletter to get free recipes sent directly to your inbox!
Chicken and Vegetable Curry with Chickpeas
This easy chicken and vegetable curry with chickpeas is a delicious and healthy chicken dinner idea! Also a great meal if you're looking for what to do with leftover chicken. Delicious over rice and served with a side of naan.
Ingredients
1

C

uncooked forbidden rice

or rice of choice

1

medium yellow onion

thinly sliced

2

tablespoon

olive oil

Pinch

of salt

6

cloves

garlic

minced

1

lb

chicken breasts

cooked and seasoned, cut into bite sized pieces

1

C

cooked broccoli

cut into bite sized pieces

1

C

cooked green peas

1, 15

oz

can chickpeas

drained and rinsed

19

oz

coconut cream

2-3

tablespoon

red curry paste

1

C

spinach

large stems removed and leaves torn into small pieces

Juice of 1 lime

Cilantro to top
Instructions
Cook forbidden rice (or rice of choice) per package directions

While rice is cooking, make your curry. Start by sautéing onion with olive oil and salt until translucent, about 5 minutes

Add garlic and sauté 30-60seconds until aromatic

Add chicken, broccoli, peas, chickpeas, coconut cream, and red curry paste to the pan and simmer 10-15minutes

Taste curry, adjust to taste as desired

Add spinach and wilt

Stir in juice of 1 lime

Serve over rice and garnish with cilantro
Notes
*Note: this is a great recipe to used leftover chicken in! We've made this with pulled chicken, grilled chicken, baked chicken… it all works just fine.
*Make this vegetarian and vegan by removing the chicken from this recipe. If you decide to remove the chicken from this recipe, I would recommend that you add another plant based protein, such as crispy tofu or additional chickpeas, to bump up the protein.
Nutrition
Calories:
944
kcal
Carbohydrates:
66
g
Protein:
44
g
Fat:
60
g
Saturated Fat:
44
g
Polyunsaturated Fat:
3
g
Monounsaturated Fat:
9
g
Trans Fat:
1
g
Cholesterol:
73
mg
Sodium:
473
mg
Potassium:
1461
mg
Fiber:
14
g
Sugar:
5
g
Vitamin A:
2433
IU
Vitamin C:
48
mg
Calcium:
122
mg
Iron:
7
mg