This savory pumpkin and boursin pasta is creamy, easy to make, and packed with herby goodness! A must make pasta recipe this fall.
If you haven't had pumpkin pasta you are missing out. Pumpkin often gets used for sweet treats during the fall, but it is wonderful in savory dishes too! This delicious pumpkin and Boursin pasta recipe is rich, creamy, and easy to make. Using Boursin cheese makes your life easier because it eliminates the need to chop the shallots and herbs that are already in the cheese!
This easy pumpkin pasta is for you if you've been looking for fall dinner ideas, easy pasta dishes to make for your family, or something new to do with pumpkin. You'd also love this fun pumpkin macaroni and cheese recipe too!
Jump to:
Why You'll Love This Recipe
Level of difficulty: Easy.
Flavor: This creamy pasta is herb and garlic forward, accented by pumpkin. The subtleness of the Gournay cheese helps to meld everything together into a lovely bite.
Time: It will take you about 20 minutes to prepare your pumpkin pasta with Boursin cheese. This assumes you are making your pumpkin and Boursin sauce while the pasta is cooking.
Ingredients Needed
Penne Pasta
Salted Butter
Minced Garlic
Pasta Water. This is literally the water you are using to cook your pasta. Learn more about why we use this in our recipe in the 'FAQS' section below!
Whole Milk
Pumpkin Puree
Boursin Shallot & Chive Gournay Cheese
Salt & Pepper
Fresh Sage
See recipe card below for a full list of ingredients and measurements.
Step-By-Step Instructions
Cook the pasta in a large saucepan: cook according to the package directions.

Tip: set a timer for your pasta so you don't have to watch the clock!

Make the sauce in a large skillet:

Once you have the pasta on the stove cooking begin the sauce.
Start by melting the butter in a large skillet over medium heat.
Add the garlic and cook until fragrant (about 30 seconds – 1 minute).
Add the pumpkin and milk and whisk to combine. Allow to simmer for 2-3 minutes (turn down your burner's heat to medium-low if starting to boil).
Add in the pasta water and whisk to combine. Allow to simmer for 2-3 minutes.
Note: be careful when scooping / measuring out your pasta water – it's very hot!
Break apart the Boursin cheese and add it to the sauce, whisking to help it melt and get distributed throughout the pan. If you haven't done so already, turn the burner to medium-low and allow sauce to lightly simmer, stirring occasionally.

Drain the pasta and add to the sauce: do NOT rinse the pasta (this removes the starches, which help the sauce to stick to it). Add the pasta to the sauce's pan, stirring until evenly coated
Serve and top with finely chopped fresh sage: plate your pasta and sprinkle minced sage on the top. Bon appetit!
Store any leftover pasta in an air-tight container in the fridge for 1-2 days.

Note: this pasta is best immediately after cooking, however, it will still be yummy the next day if you have leftovers.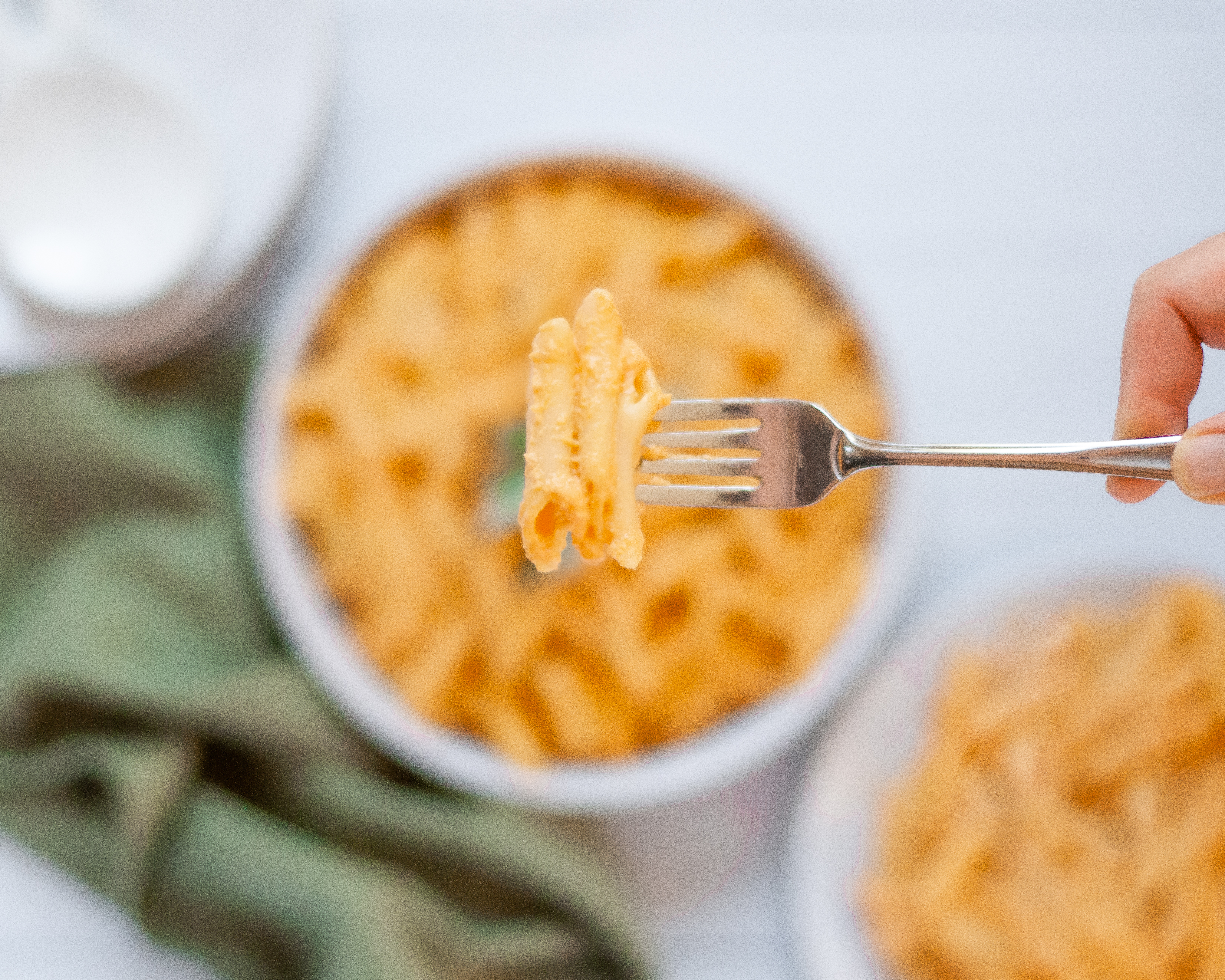 Recipe FAQs
When is the pasta water 'ready'? One of the reasons you use pasta water in the sauce is because all the starches that are released from the pasta during the cooking process add a deep, rich flavor to your sauce. Many of the sauces at your favorite Italian restaurants have some pasta water in them. You will want to wait until your pasta is done (or nearly done) cooking before taking the water out for your sauce.
What pasta shape should I use in this recipe? I used Penne pasta for this recipe. However, rotini, gemelli, fusilli, farfalle, or shells would all be great options. If you have a favorite pasta shape to eat, give it a try!
Can I use a whole wheat or protein pasta in this recipe? Definitely! Using whole wheat pasta or a protein pasta would be great for this creamy vegetarian pasta recipe to help make it a sustaining, meatless meal.
Can I add meat to this recipe? My husband enjoyed crumbled, crispy bacon on top of this pasta recipe. A caramelized (aka browned and crispy) pork sausage would be another good option if you want to add meat to this pumpkin pasta recipe.
Love This Recipe? You May Also Enjoy
Did you make this recipe? Tag @ourlovelanguageisfood on Instagram & Facebook. Leave a ⭐⭐⭐⭐⭐ rating & comment below too! Be sure to subscribe to our weekly newsletter to get free recipes sent directly to your inbox!
Creamy Pumpkin Pasta with Boursin Cheese
This delicious pumpkin and Boursin pasta recipe is rich, creamy, and easy to make. The perfect fall dinner to enjoy with family and friends!
Ingredients
1

lb

penne pasta

2

tablespoon

salted butter

3

cloves garlic, minced

1

C

pasta water

1

C

whole milk*

1

C

pumpkin puree

1

, 5.2oz Boursin shallot and chive Gournay cheese round

salt and pepper to taste

fresh sage, leaves finely chopped for topping
Instructions
Cook the pasta in a large saucepan according to the package directions.

After the pasta has been added to the saucepan, begin your sauce by melting the butter in a large skillet over medium heat.

Add the garlic and cook until fragrant (about 30 seconds – 1 minute).

Add the pumpkin and milk and whisk to combine. Allow to simmer for 2-3 minutes (turn down your burner's heat to medium-low if starting to boil).

Add in the pasta water and whisk to combine. Allow to simmer for 2-3 minutes.

Break apart the Boursin cheese and add it to the sauce, whisking to help it melt and get distributed throughout the pan. If you haven't done so already, turn the burner to medium-low and allow sauce to lightly simmer, stirring occasionally.

Drain the pasta (do not rinse!) and add it to the sauce, stirring until the pasta is evenly coated.

Serve and top with finely chopped fresh sage. Enjoy!

Store any leftover pasta in an air-tight container in the fridge for 1-2 days.*
Notes
*2% milk would be a fine substitute for the whole milk if desired
*Note: this pasta is best immediately after cooking, however, it will still be yummy the next day if you have leftovers
Nutrition
Calories:
428
kcal
Carbohydrates:
54
g
Protein:
13
g
Fat:
17
g
Saturated Fat:
10
g
Polyunsaturated Fat:
1
g
Monounsaturated Fat:
1
g
Trans Fat:
1
g
Cholesterol:
40
mg
Sodium:
202
mg
Potassium:
152
mg
Fiber:
7
g
Sugar:
6
g
Vitamin A:
6792
IU
Vitamin C:
2
mg
Calcium:
83
mg
Iron:
1
mg